My cousin, Kelly, came up from Texas to spend some time with us, including Easter. We all went over to Molly and Jon's to dye eggs and celebrate the holiday.
Over the years, the egg dying has become quite the friendly competition. This year, Lillie, was perfectly content to just drop the eggs and smash the eggs together. But Sophie really got into making lovely creations.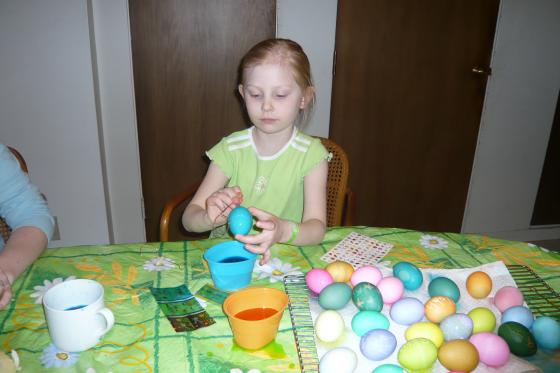 Becky and Kelly…
We went over the Molly's on Easter morning and found eggs, returning later in the evening for dinner.
 Lillie got into it– she got the point right away. She didn't always find the eggs that were right in front of her, but she did surpisingly well and definitely got the point. She was very excited whenever she found one. She didn't understand about *placing* the egg in the basket, she tended the drop the eggs.
Sophie didn't worry too much about finding more than her share of the eggs…
Instead of the tradional Easter baskets, Molly got gardening totes for the girls, complete with pea plants and really nice, metal tools. Lillie started yelling, "Trowel."
Kelly put Lillie's hair in pig-tails, a very very cute look for Lillie.
The girls dressed matching and were little angels for Easter dinner.
Molly made a special cake. Lillie thought it would be nice to pet. It was not.
The girls and Kelly enjoying dinner…
Nice pictures!! We all had a lovely Easter. I'll try to get my pictures posted soon.
You must be logged in to post a comment.