The Track and Field Trials were in Eugene at Hayward Field this year. There were a lot of events for the people who couldn't get (read: afford) tickets to the actual Trials. Here are photos of us enjoying the day there.
Bank of America was letting people make videos to send to China to pump up the athletes. Sophie and I did a cheer
Which is on youtube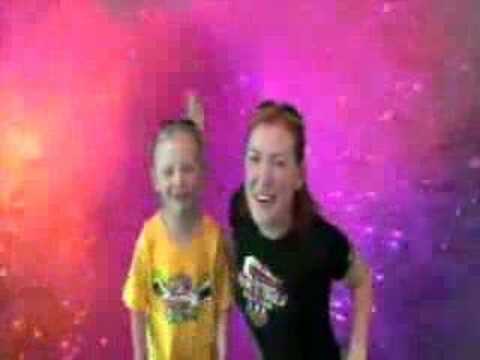 In the very awesome Kid's Zone…
Lillie was pretty much hot and sweaty the whole time… I'm not sure that she actually enjoyed it that much.
he Track and Field Olympic Trials are being held in Eugene, at Hayward Field. The athletes got two days of rest, Tuesday and Wednesday, so the Oregon Track Club held community meets there.  Sophie and Lillie ran the 60 meters.
Lillie was happy as always, but she didn't get the concept of running. She wanted to walk the white line down the lane, then about 10 yards from the end she got this look on her face, like it clicked, "Hey, I should run" and she crossed the finish line in a baby sprint with a big smile.
Sophie had to wait a long time in the blistering heat for her turn to run. She didn't complain once about the wait. She was trapped between all of these sweaty parents pushing their children to the front, and she just put her head against my stomach and waiting. A few times I was able to pick her up and hold her into the ever so slight breeze up at 6 feet. When it came time to run, she ran all the way, she did great. She hauled down that track. Great Job, Sophie!
Molly was able to get some awesome medals for the grandchildren. Sophie and Lillie are very proud of them. In addition, for running they all got tee shirts, a take on Eugene's Prefontaine's "Stop Pre" shirt.
Lillie's shirt is a little big for her…
No comments yet.
You must be logged in to post a comment.