Veronica and Efrain stopped in Portland after their Alaskan cruise, so we all got a chance to stay at Mima's and visit with them. I didn't get any decent pictures of Efrain because he was usually behind his own camera, but here are some pictures of everyone else.
Veronica and Becky:
The girls were happy to see their aunt. Lillie took a little while to warm up, but ended up thinking that Veronica is pretty okay. The necklaces they have on were gifts from Veronica and Efrain:
Our family got to stay out in the motor home, which Sophie and Lillie thought was just the coolest thing ever. They spent all their time playing out there, but I didn't get many good pictures of them. Here's a picture of Sophie hanging off the top bunk
On Saturday we drove out past Beaverton (no small drive from Vancouver) to see Nick compete in a tractor pull. Sadly, I didn't get any pictures of Nick on the shiny purple "Dirtinator", but we had a good time watching him compete.
We also finally got some good pictures of the family. Here's Mima with her girls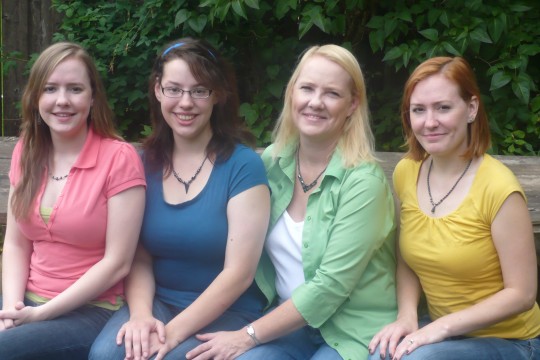 And with Becky and Sophie (Lillie refused to be in the picture):
and finally, a decent picture of my family:
No comments yet.
You must be logged in to post a comment.