Sophie and I decided that before the summer ended we needed to get one more good day at the beach. We left Lillie and Becky in Eugene and spent an entire day goofing around on the coast. We spent most of our time building a sand-castle and playing in the waves at Devil's elbow. The Oregon coast is not usually all that warm, even in the summer, but we were sheltered from the wind and it actually ended up getting pretty hot.
On previous trips to the beach it has always been a little bit cold, and Sophie has never really gotten into playing in the waves. This trip was warm enough and the waves were calm enough that we had a great time running in and out of the water. We must have spent an hour or more just chasing the waves.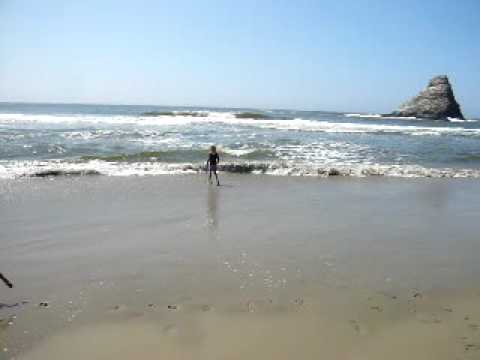 After we got tired of the beach we hiked up to the old light-house. It may not look like much, but it was actually pretty neat on the inside and we got to take a tour of it and go up into the tower.
After the light-house we drove back down to Florence where we stopped on the waterfront for a bowl of clam chowder before driving home. It was a great day.
No comments yet.
You must be logged in to post a comment.