We laid the mosaic tiles for the shower floor.  We had to take the girls with, but they jumped in and helped. Sophie and Lillie started a "tile store" and made us ask for the shapes we needed. Sophie kept a list of what she'd sold to us and the whole process took a lot longer than it would have without the store, but it was also a lot more fun.
But alas, one grows weary of tile and the girls soon retreated to the living room to watch a movie. The green on the walls is one I picked out…
The bathroom as we are laying the warm floor…
The warm floor is on a timer so that we can make sure the floor is warm when we get up in the morning. So luxurious…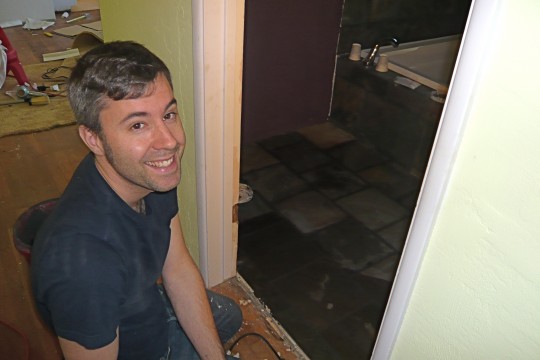 And finally Becky gets to lay flooring rather than rip it up. After checking out our options, we went for the cheapest option, with the intent to figure out what we really want and need in a kitchen floor and replace it later.
Last night we installed kitchen moulding. Tonight we will be working on finishing up the bathroom in preparation for the plumber and electrician and maybe installing more moulding.
Not all the work will be done when we move in, but no matter, it's fun to stretch out the love, right?
No comments yet.
You must be logged in to post a comment.