It's the first summer that the girls and I have had together and we made the most of it. We had camps and trips, of course. But there was also a tree top library for a week; books hauled up and down in a basket. We had two days of a complicated razr scooter speedway in the living room, complete with a crossing guard (Lillie in a girl scout uniform). The girls passed endless days teaching various preschools of bunnies, kitties, dollies and little sisters. Here is a summer highlight.
Sophie got a new bike.
She's been growing like a weed and was very excited to have a bike that fits and isn't pink.
Shad and the girls made strawberry jam from berries we picked…
We went to Spanaway, WA to visit family for the 4th of July.
We rented paddle boats.
Lillie with the paddle boats
Shad and Sophie in the paddleboat
Shad, Lillie and Rebecca
There are very nice fireworks in Washington, far more spectacular than the ones we are used to.
Uncle Barry helping Sophie light a bottle rocket
Lillie was very responsible with her bottle rocket
The kids taking turns lighting fireworks with Uncle Barry
Uncle Greg won a baking contest through coercion and intimidation. What a nice family tradition!
There were a lot of Fashion Shows.
All summer  Sophie and Cenna dressed up Lillie and made Shad and I watch the little shows they put on.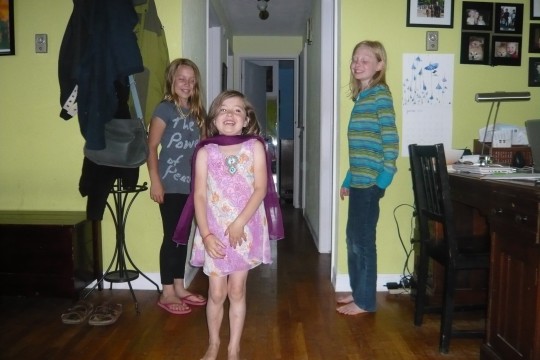 Cenna, Lillie and Sophie playing Fashion Show
We went to the Cabin a few times
On this day, Shad took the girls to a cabin for a day with their cousins.
Sophie and Julia by the fire in the cabin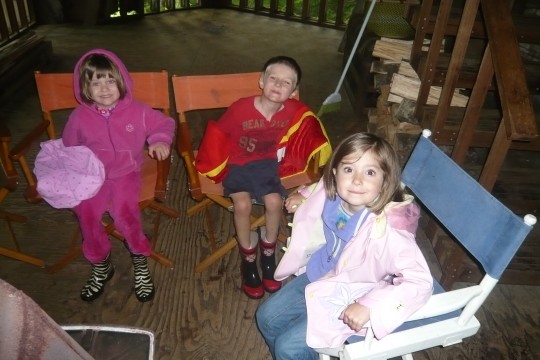 Julia, Noah and Lillie
Lillie playing at the creek
Sophie
Shad and Lillie by the creek at the cabin
We had visitors, too…
Aunt Alex came for a few days between work and school sessions and the girls really enjoyed having her here.
Sophie, Alex and Cenna
At Marine Corp Family day with Uncle Poulo, doing a scary, swinging thing to Lillie, a move actually called, "Pouloing"
The girls went to the fair with Granmolly
The fair had a day when you could get in free if you brought a vegetable dressed up. You only had to have one vegetable, but somehow they kept multiplying…
The girls really loved photographing them, if you want to see more, I have about 600 more.
The vegetables passed the "looks like a person" test and the girls spent the day at the fair with Granmolly.
Lillie on the giant swings
Lillie playing a game at the fair
We bunny-sat for the family across the street.
Yes, I let her put the bunny in doll clothes, but only for a minute.
Sophie and the bunny
Dress up parties were a frequent occurrence …
Sophie, Cenna and Lillie having Shirley Temples, pound cake and pretzels.
Lillie, Christina, Sophie and Cenna having a tea party
Uncle Poulo took us sailing on his boat…
(Sorry,  some of these are sideways.)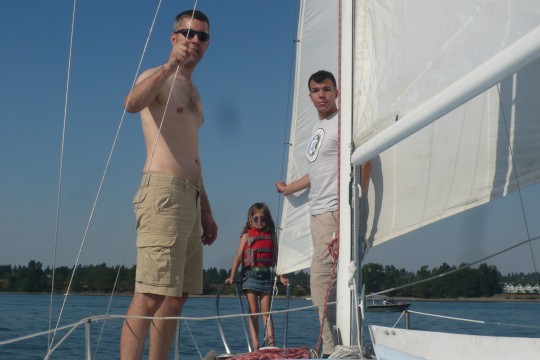 Shad, Lillie and Poulo
Captain Lillie Morgan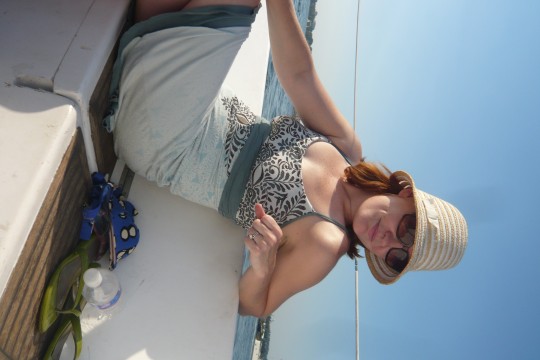 Becky
So that – plus a lot more- was our summer. School starts tomorrow. Sophie is entering 3rd grade and Lillie is starting Kindergarten. More fun to come!
No comments yet.
You must be logged in to post a comment.